The Individuals With Disabilities Education Act (IDEA) protects disabled children from discrimination and requires that school districts provide reasonable accommodations to children with disabilities. This law applies to all public and private programs that serve students with disabilities. Such accommodations include untimed tests, seating in front of the class, modified homework assignments, and other necessary services. Despite its limitations, the IDEA's requirements aren't the only protections for disabled children in school.
Federal legislation protects disabled children's education rights. This law requires schools to provide free special services to disabled students and ensure that their public education is free and appropriate for their needs. The law also gives schools the authority to remove obstacles to learning for students with disabilities. This can be done by removing barriers to learning or making sure that schools offer an inclusive environment for all students. Unfortunately, however, these rights are often eroded in the process.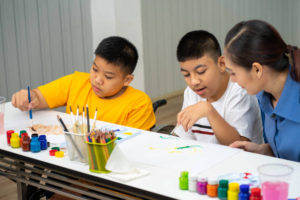 While the IDEA protects disabled children's rights to education, there are still many obstacles to their access to an education. The most common barrier to education is the lack of funding. The Individuals with Disabilities Education Act was updated this week to address these issues. Under the current law, a school can suspend a disabled student for up to 45 days without parental consent. If a parent refuses to provide the required consent, the school may suspend the child for a total of 10 days. In some cases, the suspension can continue beyond that, but this is rarely the case.
Disabled children's education rights are protected by federal law. This law obligates schools and school districts to provide free special services and appropriate public education. These laws can help ensure that a child with a disability can receive the best possible education. Even though they may have special needs, they are still eligible for federal programs to make their lives easier. By making sure that a child with a disability has the best opportunity to reach their full potential, they can take advantage of federal programs that protect their rights.
Children with disabilities have been historically excluded from the general education system. They have been institutionalized or separated from their families. These institutions and schools often teach their students in isolation from their communities. Eastern Europe has the largest number of children institutionalized and is home to the greatest number of institutionalized children. A child with a disability is still considered "extremely vulnerable" from a medical perspective. In addition to the ADA, the IDEA does not prohibit schools from excluding a child from the educational process.
In addition to Section 504's provisions, the ADA's requirements for special services and accommodations are based on federal law. These laws require school districts to provide a free appropriate public education to children with disabilities. Ultimately, the law helps these children learn in the best possible way. The ADA is an important part of the law and ensures that every child with a disability has equal access to an education.